The St. Isidore Preschool and Pre-Kindergarten Programs have been designed to help promote the spiritual, emotional, physical, intellectual and social growth of young children. In recognizing the crucial importance of the early years, our program strives to meet the developmental needs of your child. A hands on learning experience for three and four year olds is presented in a loving atmosphere to serve as a natural stepping stone between the home and the school.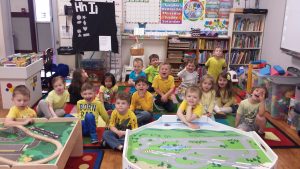 Make your own schedule!
Choose your own days (Monday-Tuesday-Wednesday-Thursday-Friday)
Choose full day or ½ day (Drop-off begins @ 8 AM)
Full Day – 8:25 AM to 3:10 PM (Morning CARES available @ 7 AM & afternoon CARES available until 6 PM)
½ Day – 8:25 AM to 12 PM
Preschool Special Areas (scheduled on certain days)
Music
Library
Computers
Spanish
P.E.
Structured Learning Environment
Circle Time
Centers
Small group lessons
Whole group lessons
Social playtime (indoor & outdoor)
Snack Time
Story Time